Kosei High School
Hachinohe Gakuin Kosei High School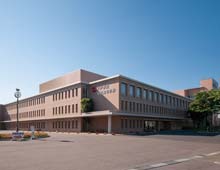 Kosei High School has designed various courses which help bring out each student's full potential.
Within the General Studies department, the "Special Academic Course" is for those students preparing to enter prestigious public or private universities. For students looking towards our affiliated Hachinohe Gakuin Tandai Nursing School as well as to national or private universities, the "Medical Nursing Course" is perfect. For students wanting a superior local education emphasizing width and depth of education, the school has two courses, the "Academic Course" and the "General Learning Course".
At the technical school, we offer two specific courses for expertise knowledge; the "Early Childhood Education" course and the "Social Welfare" course. Furthermore, the "Business Course" is offered for students interested in successfully completing certificates and pursuing a career in business. The "Automotive Maintenance Course" is available for students interested in a challenging 5-year course for professional automotive mechanics. The "Engineering Skills Course" is for those students looking for an all-encompassing specialty in electronics, equipment, and construction.
At Hachinohe Gakuin Kosei High School, we support all the students' needs so that they can realize their dreams.
Address
6-14-5 Minatotakadai, Hachinohe, Aomori 031-8507 JAPAN