Junior College
Hachinohe Gakuin Junior College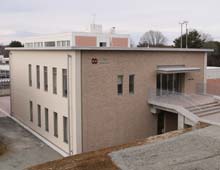 The Junior College is comprised of three departments; the Early Childhood Education Department and the Social Welfare Department. To help students realize their dreams for the future, we provide an optimal learning environment with maximum support.
The Department of Early Childhood Education trains students to be childcare professionals, our motto being, "People raising people" From the first year, our students participate in various practical sessions for learning on location at education facilities. Focus on voice, drawing, and the body gives the program its unique ability to strengthen our students' skills. In two years, students will gain a wide view of how to teach another person as well as looking within and learning from themselves and others.
 We strive to train specialists as care providers and deepen students' general knowledge about social welfare including the related fields such as medical care. In addition, we cultivate positive practices through the practical training in nursing facilities and facilities for disabled persons. The training of a talented care professionals is currently an important local challenge. We provide a safe and comfortable environment in which to learn social welfare. We continue to take action to make an invigorated and bright future for the local community.
Address
13-384 Mihono, Hachinohe, Aomori 031-0844 JAPAN