Shinonome 2 Kindergarten
Hachinohe Gakuin Shinonome 2 Kindergarten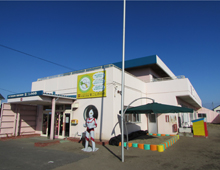 At Hachinohe Gakuin Shinonome 2 Kindergarten, "bright and healthy children", "the rich heart of children" and "children who have their own thoughts and ideas" are the educational goals.
Together with Hachinohe Gakuin University, Hachinohe Gakuin University Junior College, and Hachinohe Gakuin Kosei High School we strive for an educational lifestyle while treating learning through experience.
In the daily life of the kindergarten, the overall growth and safety of each child is paramount, especially teaching them to be considerate of others. In this way, we fully and wholly support parents in their child-rearing endeavors.
Address
1-51 kokubojiri,niida, Hachinohe, Aomori 031-0813 JAPAN