University
Hachinohe Gakuin University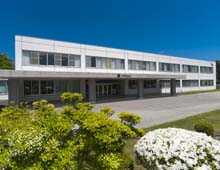 Hachinohe Gakuin University is comprised of the Business Faculty and the Health Care Faculty. The faculties provide an optimum environment for realizing your dreams by supporting your endeavors.
The strong point of the Business Faculty is its serious approach to business within the local community. In order to properly raise leaders who will be at the core of the business world, we have two courses and five programs to choose from.
The Management Course allows students on campus to put into practice the skills they will need in society. We continue to improve the design and details of the course, and for that reason, we have added the new "Agriculture Business" as well as the "Computer Specialist" Programs. Furthermore, within the "Community Course" is the "Community Business Program", which trains students in economics as well as information systems with a diverse range of specialty classes to meet the need for careers as public servants as well as jobs in various NPOs. Finally, the "Education Program" trains students as specialty teachers in business and information technology. As of April 2013, the "IT in Society Program" was revamped and is now called the "IT/WEB Creative Program" to answer the needs of high school students and the community in our modern active society. The addition of the Digital Hollywood brand helps to complete this mission.
The Faculty of Health Care is comprised of two departments, Human Health and Nursing. Each pursues the questions of Mind, Body, and Social Welfare. With two courses and five programs, both general and specialized information on health can be studied. In the "Sports Science Course", two programs are available. One is the "Education Program", which trains students to become teachers of health and physical education. The other is the "Professional Trainer Program", which trains students in health and physical training methods for careers as sports trainers. The "Health Science Course" further trains students in this specialty (as school nurses, etc.) so that they can obtain the Japan Psychologist Certificate upon graduation. Also, the "Specialty in Social Welfare Program" is available for those students who want to pursue the National Examination in that area.
The Nursing Department was transferred from the 3-year Junior College program to the University's 4-year program in April of 2016. The purpose for this was to expand the depth and breadth of educational foundations, particularly with regard to community health and scientific bases of Nursing care. Upon graduation, students will be certified at a higher level of nursing than in the previous program.
Address
13-98 Mihono, Hachinohe, Aomori 031-8588 JAPAN