Kosei High School
Hachinohe Gakuin Kosei High School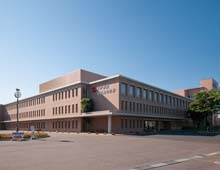 Kosei Senior High School's policy is, "embracing variety, nurturing independence of will, and supporting the power to go to the future". As a school policy, we strive for a school that is cherished by the community as well as achnowledging the Kosei brand name that carries honor and pride.
In the Special College Course, we strive to deepen knowledge and the culture that is wide, with the goal of entering into national schools of higher learning, upper-ranking tertiary schools, medical schools, and schools for public employees, including our affiliated Hachinohe Gakuin University. From 2020, studies in international culture, liberal arts, physical sciences, IT business, and challenges qualification.
The Sports Science Course aims to improve the competitive power of athletes by learning theory, mental training, sports nutrition as well as the basics necessary to enter sports and related occupations in the future.
Indispensable to modern culture is the Childcare Course and Welfare Course which trains students to be experts in fields such as a kindergarten teacher, childcare providers and care workers in childcare welfare departments.
Kosei Senior High School is "a high school-oriented towards the future". We prepare a variety of curricula to realize your dreams. The school actively educates students by way of this varied curricula with school events to nurture innate potential, and 'active learning' style classes to course for utilizing ICT, creating the most suitable learning environment possible for this increasingly changing society.
Address
6-14-5 Minatotakadai, Hachinohe, Aomori 031-8507 JAPAN