Noheji-Nishi High School
Hachinohe Gakuin Noheji-Nishi High School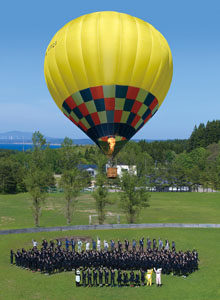 The school is a comprehensive high school with three different series of courses that allow students to select subjects from a wide range of fields according to their abilities, aptitudes, and career aspirations. The Liberal Arts Preparatory Course offers subjects that prepare students to enter universities, as well as subjects in commerce and information that are useful for finding employment, and unique school subjects such as sports and English conversation. The Childcare Welfare Course offers courses in childcare and social welfare basics. The Industrial Technology program offers specialized courses in electricity, architecture, and automobiles, and students can learn knowledge and skills that will lead them to acquire national qualifications.
In addition, the school has an "Agreement on High School-University Cooperative Projects" with Hachinohe Gakuin University and Hachinohe Gakuin University Junior College, which are senior schools of the corporation, and offers the privilege of having credits for courses taken as a special auditing student recognized.
In June 2008, the school corporation opened Hachinohe Gakuin Cartel High School in the Philippines, where students can study abroad at CNE1 language school and receive direct language instruction through an online system.
The school will celebrate its 50th anniversary in 2023.
Address
51-6 Biwano, Noheji, Kamikita, Aomori 039-3156 JAPAN