Noheji-Nishi High School
Hachinohe Gakuin Noheji-Nishi High School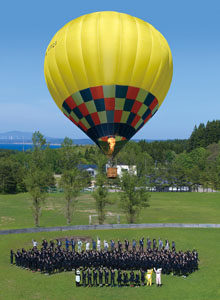 This high school is unique in its 3-tier, 5-course approach, allowing each student to choose their field of personal interest.
The Industrial Technology Course incorporates Electric and Building technology education. Upon graduation, the No. 2 Electronics Specialist and the Level 2 Registered Architect qualification exam can be taken. While in school, the Level 3 Automotive Specialist (gasoline chassis, diesel engines and motorcycles) qualification can be obtained.
In the general field of social welfare, the two practical courses of "Preschool Education" and "Nursing Care" are provided. Students create opportunities to build their aptitudes while nurturing the skills needed in these fields.
The Liberal Arts higher education course helps to increase the skills of their business life while information about practical subjects and skills education increases the chances for entrance into higher education at public and private colleges and universities. For either of these courses, the academic road is wide open and waiting.
Address
51-6 Biwano, Noheji, Kamikita, Aomori 039-3156 JAPAN