Library
Hachinohe Gakuin Library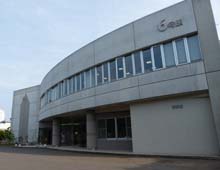 The library was completed in April of 1999, being a collaboration of the two individual libraries from the respective schools. The library is equipped with large and small meeting rooms, as well as an adjoining chapel.
The first floor provides the magazines/journals corner, the reference search corner, and various types of learning areas. On the second floor is a large study space with seating for over 100, over 80,000 books, student LAN ready computers, and on-site wireless internet service for students.
At the present time, the library has 160,000 volumes in its growing collection along with affiliate institutions. With an easy application process, the library also aims to provide a wide variety of resources and support that can be conveniently utilized by the whole community.
Address
13-98 Mihono, Hachinohe, Aomori 031-8588 JAPAN