Junior College
Hachinohe Gakuin Junior College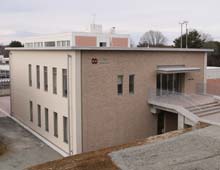 The Junior College is comprised of three departments; the Early Childhood Education Department, the Life Design Department, and the Nursing Department. To help students realize their dreams for the future, we provide an optimal learning environment with maximum support.
The Department of Early Childhood Education trains students to be childcare professionals, our motto being, "People raising people" From the first year, our students participate in various practical sessions for learning on location at education facilities. Focus on voice, drawing, and the body gives the program its unique ability to strengthen our students' skills. In two years, students will gain a wide view of how to teach another person as well as looking within and learning from themselves and others.
The Life Design Department is no longer accepting new students as of April, 2018.
The Nursing Department was moved to Hachinohe Gakuin University's Health Care Faculty in April of 2016.
Address
13-384 Mihono, Hachinohe, Aomori 031-0844 JAPAN